I love going to bed knowing what my morning will look like.  Having breakfast already planned (or done) makes life so much easier!  That is one of the reasons this oatmeal is a winner for me.  I can throw it together the night before and the next morning I have a healthy, fast, filling, and tasty breakfast for my family.  It is a real time saver!
I have made this oatmeal many ways over the years and had many failed attempts!  I have tweaked the recipe so many times, but have finally come up with a winner.  A few tips when making this.  If you have a large crock pot (5-7 quarts) that is oval shaped you need to cook this oatmeal on the warm setting, not on low.  If you use low you will have lots of crusted on oatmeal in the morning and less to eat, plus a HUGE mess on your hands.  If you have a more traditionally sized, round, tall crock pot, cooking it on low will work just great.
Also, this is flexible.  I like to add a diced apple, but if you rather leave it out, that is fine.  You could also substitute it for a pear, that is tasty too.
Finally, this oatmeal makes great leftovers.  It heats up wonderfully, just like eating it the morning before.  So if your family (or you) really like oatmeal make a bigger batch and then heat it up all week for breakfast!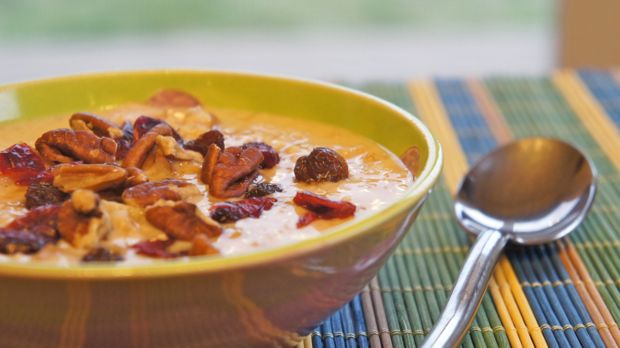 Apple Crock Pot Oatmeal
1 heaping cup of steel cut oats (also called Irish or Scottish oats)
2 cups water
2 1/2 cups milk
1 tsp. cinnamon
1 apple, diced
Place the oatmeal, water, milk, cinnamon, and diced apple in your crock pot.  Make sure the lid is secured and cook on warm (or low, see discussion above) overnight, about 8-10 hours.
Enjoy each bowl topped with raisins, dried cranberries, pecans, brown sugar, and milk!