I had the privilege of making my sister-in-law Amie a birthday dessert!  I just LOVE blessing someone with something tasty to eat, especially for their birthday.  I don't get to do this as much as I want to, simply because life gets in the way.  So last week when I was informed that Amie and Jake were making a spur of the moment trip to town, I got excited! Amie's birthday was less than a week away,  it was time to create.  I had fun thinking about Amie and what she likes, a fun inspiration for me.  Happy Birthday Amie, I am so thankful to have you as a sister!
I was inspired to invent this dessert by raspberries.  They are so beautiful and a perfect combination of tart and sweet.  I began day dreaming about what I could do with these little bits of heaven…almonds and chocolate would be a welcomed addition to the raspberries, but I was afraid of "over chocolating" (is that a word? I'm not sure that it should be…) the dessert, so I decided to throw some vanilla ice cream into the combo and boy was I glad I did, it was wonderful!  I was so pleased with the taste, but what really made it for me was getting to surprise Amie with her dessert, she had NO IDEA it was coming!  Mission accomplished!!!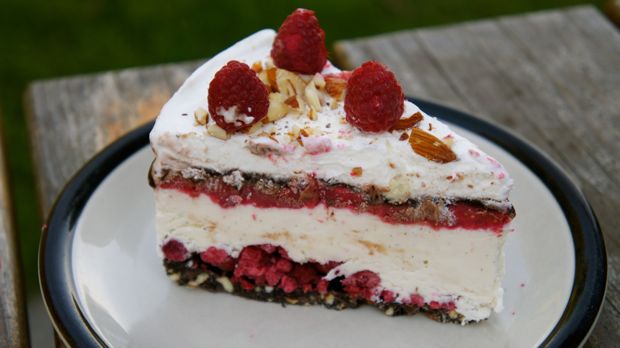 Almond Raspberry Ice Cream Pie
Crust

10 Oreo cookies (or Joe Joe's from Trader Joe's), crushed
1/4 cup butter, melted
3/4 cup toasted almonds, chopped

Pie "Inside"

3 1/2 cups raspberries, frozen or fresh, divided
1 1/2 quarts good quality vanilla ice cream
1 Tbs. cornstarch
2 Tbs. lemon juice
1/4 c. sugar
1 cup hot fudge

Topping

1 cup heavy whipping cream
2 ounces Creme de Cocoa
2 Tbs. powdered sugar

Garnish

Chopped Almonds
Fresh Raspberries
In a medium bowl combine the crushed cookies, melted butter, and chopped and toasted almonds.  Mix until combined and evenly spread across the bottom of a 10 inch spring form pan.  Press the crust until it is compacted and covering the bottom of the pan.  Spread 2 cups of raspberries across the crust and place in the freezer for at least 45 minutes.
In a small sauce pan over medium-high heat combine 1 1/2 cups raspberries, cornstarch, lemon juice, and sugar.  Stir until combined.  As the mixture heats up continue to stir and bring to a boil.  Once the sauce has thickened, about a minute, remove from the heat.  Cool the sauce on the counter or in the refrigerator, until it is at room temperature.
While the crust and berries are freezing and the raspberry sauce is cooling, remove the ice cream from the freezer and let it soften on the counter for at least 20 minutes.  When the ice cream is soft enough to spread carefully scoop it into the pan and gently spread it out evenly over the berries and crust.  When the ice cream is evenly distributed spread the cooled raspberry sauce over the ice cream.  Freeze for at least 4 hours or overnight.
When the pie is frozen prepare the hot fudge.  When the fudge has cooled, about 20-30 minutes, spread it over the raspberry sauce and return the pie to the freezer.  Freeze for at least 1-2 hours, or overnight.
In the bowl of your stand mixer combine the heavy whipping cream, Creme de Cocoa, and powdered sugar.  Whisk on high for 2-3 minutes, or until stiff peaks form.  Spread the whipped cream over the fudge.  Garnish with additional almonds and return to the freezer, for at least 2-3 hours, or up to 3-4 days.
When you are ready to serve the pie, remove it from the freezer and arrange the raspberries.  Let the pie sit for 5-10 minutes and remove the sides of the spring form pan.  Using a sharp chefs knife carefully slice the pie (if it is too hard wait a few more minutes and attempt again!)