Have I mentioned before that I love breakfast?
 I get excited about doing something new in the morning, but the problem is, most of the time my kids aren't patient enough to let me experiment at that time of the day, so we get stuck eating the same things.  Every now and then I get it together to prepare something the night before so all I have to do is mix it in the morning, that is how it worked with this oatmeal.
Last year I made Baked Pumpkin Oatmeal from SweetAnnas blog and my family (and everyone else I served it too) loved it!  Ever since making this last fall I have wanted to try another version of baked oatmeal, then I came across an inspiring idea on Annie's-Eats and I got really excited.  I combined rolled oats and steel cut oats plus some delicious frozen berries from this summer, it was a real winner at breakfast time!
This dish is easy and packed full of nutrition.  It is adaptable too, feel free to vary the nuts (or leave them out, but why would you wan to do that!?!), change up what kind of berries you use, and adjust the seasoning as you see fit!  My family loves Apple Crock Pot Oatmeal, we have it at least once a week, but they all said this might be a new favorite. When I make everyone happy, then I am extremely happy!
This dish is quick to prepare in the morning, but it is even easier if you measure everything out the night before (then you have less to think about before you have your coffee!)  I measured the steel cut oats in one bowl, the dry ingredients in another, and the wet in a third.  When morning came I soaked the steel cut oats, preheated the oven, and when that was done I mixed the dry and the wet in with the steel cut oats and poured it in the pan with the berries, super easy!  Then I took a shower while it baked, what a great way to start the day.
Oh yeah, I forgot to mention, it makes a whole 9×13 pan full.  It is a great reheating breakfast so I get two mornings worth of breakfasts from it, score!
I hope you find a morning in your week, this would be a great weekend breakfast, to give this a try.  (It would also be a perfect breakfast for dinner meal!)  I have a feeling it might become a family favorite in your home, it's one here already!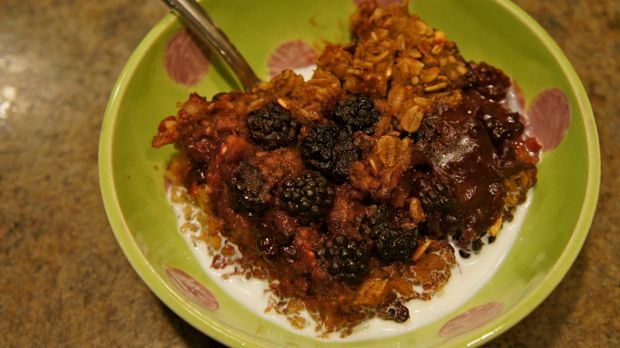 Baked Blackberry Oatmeal
Inspired by Annie's Eat
1 cup steel cut oats
4 Tbs. butter
4 cups boiling water
3 cups old fashion rolled oats
3/4 cup brown sugar or rapadura
1/4 cup flaxseeds
1/2 cup almonds, roughly chopped
1 tsp. salt
2 tsp. cinnamon
1/2 cup applesauce, unsweetened
1/2 cup milk
1 1/2 tsp. vanilla
1/2 tsp. almond extract
1/4 cup maple syrup or agave
2-3 cups frozen or fresh blackberries
Place steel cut oats and butter in a large bowl.  Pour 4 cups of boiling (or really hot) water over the oats and cover.  Let sit for 20 minutes.
Preheat the oven to 375 and lightly grease a 9×13 inch baking pan.
In a medium bowl stir together the rolled oats, sugar, flaxseeds, almonds, salt, and cinnamon.  In a small bowl combine the applesauce, milk, extracts, and syrup or agave.
When the steel cut oats are done soaking stir the oatmeal mixture and wet ingredients into the steel cut oats (do not  drain the remaining water from the steel cut oats.)
Spread half the berries on the bottom of the pan, cover with oatmeal, and top with remaining berries.  Sprinkle cinnamon and sugar over the top, if desired.
Bake for 35-45 minutes or until bubbly and set.  Let cool for 10 minutes.  Serve with cream, if desired.