I think many people have forgotten that hamburger patties can be made from ground beef at home.  What I mean is, many people buy the pre-made burger patties and they forget the amazing flavor found in shaping your own patties at home.  Gone are the days this house buys the preformed patties.  Why you might ask?  Because making your own creates such a superior burger that you'll never want to go back, trust me, give it a try, it only takes a few extra minutes!
When forming your own patties at home you have control over what they're made from (the type of beef) and what is put in them, as well as how big they are.  It is so simple and easy to break up the beef, mix in the seasonings, shape the patties, and you're ready to go.  If you like the idea of having pre-made patties in the freezer, ready for the grill at a moments notice (who doesn't like this idea?) then make a double batch, grill off half and throw the rest in the freezer (with parchment paper between the patties) for another day!  Perfect, and tasty, "pre-made" patties!
When making burger patties at home the additions to the meat are endless!  In the past I have put so many flavorings in the meat that we could barely keep the patties together on the grill (I got reprimanded for this!)  I love adding cheese, fresh herbs, veggies, etc. but almost everyone else in my family just likes their patties "regular" so they taste like a normal burger.  This recipe is my "as normal as it gets" burger.  Watch the blog this summer for some fun variations to this basic burger!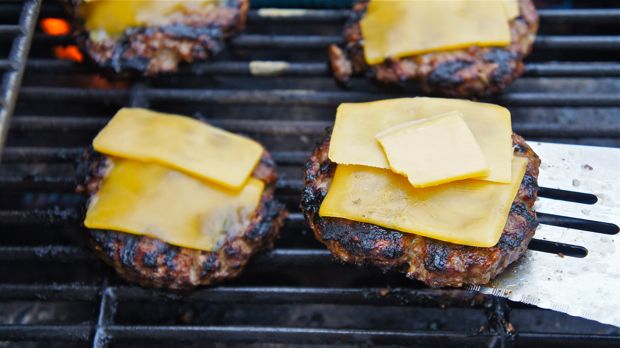 Basic Burgers
2 pounds ground beef (local or organic is best)
2 Tbs. parmesan cheese
1 Tbs. balsamic vinegar
1 Tbs. Worcestershire sauce
1 Tbs. seasoning mix (I like Bragg's Organic Sprinkle)
1/2 Tbs. salt
Dash of cayenne
freshly ground pepper
In a large bowl break up the ground beef.  Sprinkle cheese, vinegar, Worcestershire sauce, seasoning, salt, cayenne, and pepper over the beef.  Using your (clean!) hands mix the seasonings and ground beef together until combined.
Divide your meat mixture into 6 uniform balls (if you want 1/3 pound patties.)  Using a jar lid covered in plastic wrap press the meat into the lid to make a uniform and tightly packed patty.  (There is a great photo tutorial here on how to do this, it's really simple!)  Repeat until all the patties are made.  At this point you can prepare to cook the burgers or cover them and refrigerate until ready, or freeze for another day (just make sure you place parchment paper between each patty so they can be easily separated!)
Set the patties aside, pre-heat the grill, and prepare burger toppings.  Grill burgers until cooked to your desired doneness.
Enjoy with your favorite toppings.  You'll never go back to pre-made patties again!
*The Braggs Organic Sprinkle is a seasoning mixture that has no salt and is good on and in so many things! (You won't be sorry if you buy it, you will love using it in your cooking.)  If you don't have this, substitute a traditional seasoning salt (reducing the salt in the recipe), or Italian seasoning.