We went blueberry picking this week.  The whole time we were picking Zoey kept asking if we were going to make a blueberry pie, which sounds delicious, but I just haven't gotten to it yet.  What I did find time to do was give these blueberry banana sour cream muffins a try, oh yum!  They might just be the most beautiful muffins I have ever made.  Seriously.
I like to make my muffins a tad on the healthy side so I cut down the sugar and put some agave in to replace it.  I also used half whole wheat flour and half white, but you do what works for your family, they will still be delicious.
We are headed out for a camping family reunion this weekend and I am excited to share my muffins with others.  Sorry Zoey, muffins pack better than pie, maybe next week!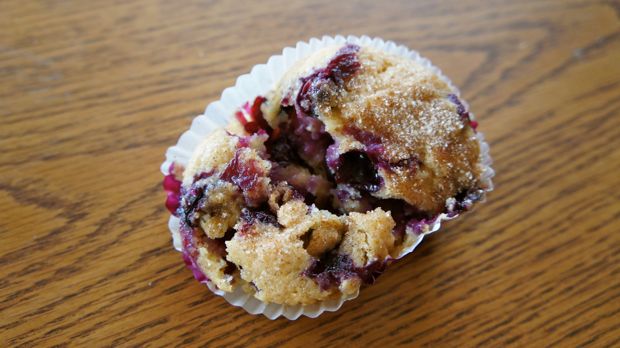 1 cup white flour
1 cup whole wheat flour
2 tsp. baking powder
1/2 tsp. kosher salt
1/2 tsp. cinnamon
1 egg
1/2 cup sugar
1/4 cup agave nectar
1/4 cup melted butter
3/4 cup sour cream
2 bananas, ripe and mashed
1/2 tsp. vanilla extract
1/2 tsp. almond extract
1 1/2 cups blueberries
1 1/2 Tbs. sugar
1/2 tsp. cinnamon
Blueberry Banana Muffins
Adapted from GoodThymesAndGoodFood
Preheat the oven to 350 and line or grease the muffin tins.
In a large bowl combine both flours, baking powder, salt, and cinnamon.  Whisk together and set aside.
In a medium bowl whisk the egg, sugar, and agave together.  Slowly whisk in the melted butter until combined.  Add the sour cream and mashed bananas.  Once combined stir in the vanilla and almond extracts.
Add the wet ingredients to the dry ingredients and mix until just combined.  Gently fold in the blueberries.  Fill the muffin tins with the dough, 3/4 of the way full.
In a small bowl combine the 1 1/2 Tbs. sugar and the 1/2 tsp. cinnamon.  Using a spoon sprinkle the cinnamon and sugar mixture over the muffins.  Bake until lightly golden, 23-28 minutes.  Serve warm and enjoy!