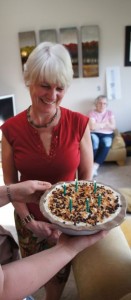 Wow, this pie turned out amazing, it was everything I was hoping it would be!  It was the capstone to my mom's 56th birthday celebration last week, she loved it.  My mom has always loved mint chocolate chip ice cream and I've dreamed about how I could join these flavors into an unforgettable dessert for her birthday, she says I nailed it!
It was so fun to bless her with this pie, but creating it was part of the reason I was totally out of "cooking energy" the rest of last week!  I just couldn't seem to recover from all the time and thought I had put into the birthday dinner, but she is so worth every ounce.  She has spent the majority of her life blessing and caring for me, it was the least I could do (plus, I gotta set an example to my girls of how they should treat their mom on her 56th birthday!)
This recipe was developed from a lot of different ideas all meeting up in my mind and landing in a deep dish pie pan!  It has a layer of Oreo crust (I used Joe Joe's from Trader Joe's, but either one is great), layered with vanilla ice cream mixed with Crème de Menthe and Crème de Cocoa, followed by my homemade hot fudge, and topped with a layer of Crème de Menthe whipped cream, toast almonds and mini chocolate chips!  It takes a day or two to make because of freezing time, but it really isn't too hard and it's well worth it.  The recipe posted here is for one ice cream pie, but it is just as easy to make two and it keeps in the freezer for a week or two!
Next time you want to impress someone, celebrate something, or you just craving an amazing dessert on a warm (or cold) day give this one a try, I really don't think you'll regret it!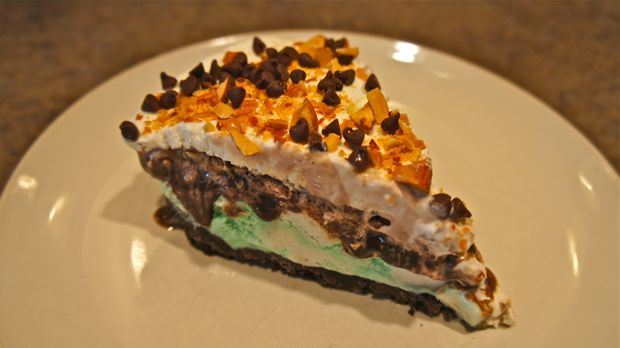 Boozy Chocolate Mint Ice Cream Pie
Crust

16 Oreos (or Joe Joe's from Trader Joe's), crushed
1/4 cup butter, melted

Ice Cream

1 quart good quality vanilla ice cream
1/4 cup Crème de Menthe
3 Tbs. Crème de Cocoa

Fudge

1 cup hot fudge

Whipped Cream

1 cup heavy whipping cream
2 Tbs. powdered sugar
1 1/2 ounces Crème de Cocoa

Garnish

1/2 cup toasted almonds, roughly chopped
1/2 cup mini chocolate chips
In a medium bowl mix the crushed cookies with the melted butter.  Once combined press evenly into a 9 inch pie pan, covering the bottom and at least half way up the sides of the pan.  Place in the freezer for 30 minutes or more.
Soften the vanilla ice cream by leaving it out on the counter for about 20 minutes, or until easily scooped.  Place the ice cream in a medium sized bowl and add the Crème de Menthe and Crème de Cocoa.  Mix well until the liquors are evenly incorporated.  Spoon the ice cream mixture onto the crust and smooth until even.  Place in the freezer for at least 4-6 hours, or overnight, until frozen solid.
Once the ice cream is frozen, spoon warm or room temperature hot fudge over the ice cream.  Return to the freezer for at least 2 hours.
In a large bowl place the heavy cream, sugar, and Crème de Cocoa.  Beat on high until whipped, about 2-3 minutes.  Spoon over the hot fudge layer.  Garnish with toasted and roughly chopped almonds and mini chocolate chips.  Place back in the freezer until it is time to be served, at least 1 hour.
This can be made days in advance and kept in the freezer.  Once it is removed from the freezer, serve immediately to avoid melting.
*This dessert should not be feed to children, the alcohol is present in the dessert.  My kids were happy with a bowl of ice cream and Oreo cookies!