Grandma's recipes produced another winner!  This bread is A.M.A.Z.I.N.G.  Perfectly tender and chewy, beautiful, and not hard to make!
It is the perfect bread because it would be a great compliment to any soup, pasta, lasagna, spread, dip, cheese, or just by itself with butter!  It was melt in my mouth yummy, I had to practice SERIOUS self-control to not eat the whole loaf…
I am not sure where my Grandma got this recipe, or if she ever made it, but I'm sure glad I did.  I love homemade bread, but sometimes it can be disappointing, and after all that time and energy put into it I wonder why I didn't just buy a loaf at my local bakery?  This bread will make you glad you baked instead of bought!
One wonderful thing about this recipe, it makes two loafs, so you have one to eat and the other to share with a friend or freeze (or eat!)  The dough can be prepared in advance and left to let rise in the refrigerator or kneaded, risen, and eaten the day of, whatever is easiest for you.  All I know is, make this bread, I don't think your taste buds (or your family) will regret it!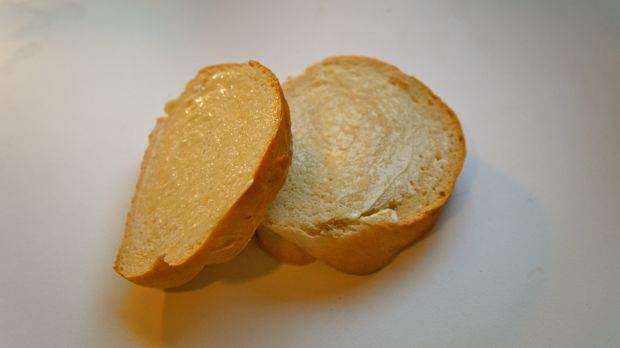 Chewy Italian Bread
4 1/2 tsp. yeast
2 Tbs. sugar (divided)
1/3 cup warm water
6 3/4 cup white flour (divided)
2 cups milk
2 Tbs. olive oil
2 tsp. salt
1 egg white
In the bottom of a large bowl or in the bowl of your stand mixer combine the yeast, 1 tsp. sugar, and warm water.  Let it sit for 5 minutes.
Stir in 4 1/2 cups of flour, a heaping tablespoon of sugar, the milk, oil and salt.  Mix until smooth either by hand or using the paddle attachment on your mixer.  Stir in the remaining 2 cups of flour to form a soft dough.  Knead for 10 minutes by hand, or using the dough hook on your mixer.
At this point you can cover the dough on your counter and let rise for 45 minutes in a warm place or put in a large bowl with a lid and refrigerate for at least 8 hours.
Once risen (either on the counter or in the fridge) punch the dough down.  Divide the dough ball in half and roll each ball out into a 14×10 inch rectangle.  Roll up the rectangle firmly to form a 14 inch loaf.  Pinch the ends and tuck under.  Repeat with second dough ball.  Place each formed loaf on a cookie sheet.  Let rise for 30 minutes if the dough has not been refrigerated, or 1 hour if it has.
Preheat the oven to 375 degrees.  Make 4 diagonal cuts, 1/2 inch deep, along the top of the loaf.  Mix the egg white with 2 tsp. of water and brush over the top of the loaf.  Bake for about 25 minutes.  Remove from oven and cool on a wire rack.