I've picked a lot of blackberries this fall, but haven't found much time to bake with them!  I've had pectin sitting on the counter and I want to use it to make honey sweetened blackberry jam, but I just haven't gotten to it, such a shame.  The good thing is, I have several bags of frozen blackberries that will be put to good use this winter (if I can find the time then)!
On my last blackberries picking adventure I told myself that when I got home I had to make something with at least some of the berries I picked.  As I was contemplating what to make I saw a block of cream cheese in my refrigerator and a lightbulb went on, blackberry cream cheese something had to be made!  After lots of daydreaming about what I could combine these two amazing ingredients into I came up with these bars.  Simple, but so delicious I felt like I was transported to heaven with my first bite!
They have a buttery crust, a moist blackberry cream cheese center, and a crunchy crumbled top.  I love the hint of lemon the zest adds to these bars, but the zest is optional, they will still be delicious without it.  This recipe makes a whole 9×13 pan so there are lots to eat and share.  Make sure you cool them for at least an hour before slicing, they really need that time to set up, despite how hard it will be to resist trying one!  After they have been sliced store the bars in the refrigerator, they are delicious cold too, in fact, I can't decide if I like them better warm or cold, I think the reason is I REALLY like them, no matter what the temperature is!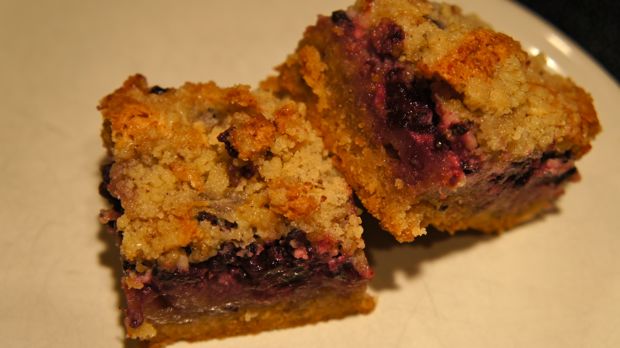 Cream Cheese Blackberry Bars
Inspired by pinkparsley.com
For the Crust and Topping

3 cups flour
1 cup sugar
3/4 cup whole pecans
1 1/4 cup butter, cut in 1/2 pieces

For the Filling

4 eggs
2 cups sugar
8oz. cream cheese
1 tsp. almond extract
zest from 1/2 a lemon (optional)
4 cups blackberries
Preheat the oven to 350 degrees.
In the bowl of your food processor place the flour, sugar, and pecans.  Blend until combined and the pecans are chopped, 30 seconds.  Sprinkle the butter pieces over the flour mixture and pulse the food processor until the butter is cut in and mixture resembles damp sand.  (If you don't have a food processor this can be done by hand, just pre chop the pecans and cut the butter into the flour using two knifes or two forks.)
Measure out 2 cups of the flour butter mixture and set aside, this will be used for the topping.  Firmly press the rest of the flour mixture into the bottom of a 9×13 inch pan until evenly spread.  Bake for 15-18 minutes, or until lightly golden.
In a medium bowl whisk the 4 eggs.  Add in the sugar and cream cheese.  Mix until combined and the cream cheese is either completely incorporated or broken into little balls. Stir in the almond extract and lemon zest.  Gently fold in the blackberries.
Pour the berry mixture over the cooked crust and sprinkle with the 2 cups of flour mixture left over.  Bake until set and the top is golden, about 45-50 minutes.
Let cool for 1-2 hours before slicing.  Serve warm or refrigerate and enjoy chilled.