It is salad season!  I say this with excitement because I love harvesting the lettuce and spinach from my garden and coming in the house and using it in a salad or other dish.  It is deeply satisfying to know I am raising and eating my own produce, eggs (from the chicken), and meat (from the pigs.)
The one thing I don't like about "salad season" is I get bored with it.  I find myself making the same thing time and time again and even if I like eating it, I get burnt out making it.  I am challenging myself this summer to break out of my traditional salads and come up with something new, so I don't bore myself.  We will see if I stick with my goal…
One of my favorite ways to change up a salad is to make my own dressing.  I had some lovely strawberries that were about to turn and some big spinach leafs in my garden so I decided to make a spinach and strawberry salad with pecans and blue cheese, yum!  One of my favorite dressings to use on a salad that contains fruit is poppy seed dressing.  I starting throwing some ingredients together and came up with a dressing that is definitely a keeper!
Want to embrace salad season with me?  Lets get creative and see what happens!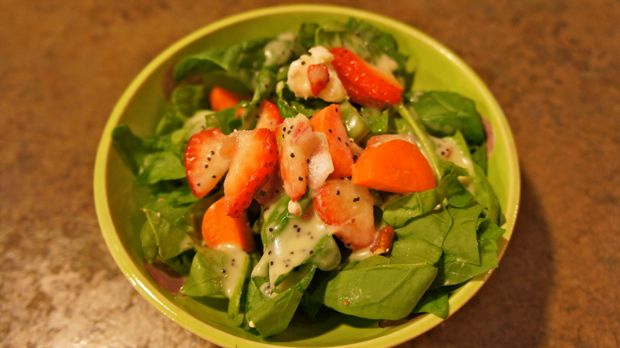 3/4 cup plain yogurt, Greek or regular
1/2 cup olive oil
2-4 Tbs. honey
2 Tbs. apple cider vinegar
1 tsp. mustard powder
1 tsp. kosher salt
1 tsp. garlic powder
2 Tbs. minced red onion
3 tsp. poppy seeds
Creamy Poppy Seed Dressing
In a medium bowl whisk to combine the yogurt, olive oil, honey, and apple cider vinegar.
Stir in the mustard powder, salt, garlic powder, onions and poppy seeds.
Taste and adjust seasonings as desired.  Keep in mind that the flavors will combine while it refrigerates.
Use immediately or store in an airtight container in the refrigerator.  Shake before using.  Enjoy on your favorite salad!