This is one of our favorite weekend breakfasts (and sometimes weekdays if I've really got it together!).  It comes together quickly and is so fun to make, watch bake, and eat.  The blending of the ingredients adds a lot of air and when baked it puffs up and is just beautiful.  If it was up to my kids we'd have this 3-4 times a week at least.
I hope you give this a try this weekend, you won't be sorry!
Dutch Babies with a Berry Sauce
Dutch Babies

2 Tbs. butter or coconut oil
5 eggs
3/4 cup milk
3/4 cup flour

Berry Sauce

1 cup frozen fruit
2 Tbs. sugar, or other sweetener
1 tsp. cornstarch
Place 2 Tbs. of butter or coconut oil in a 9×13 inch pan and place in a cold oven.  Turn the oven on to 425.  As the oven pre-heats the butter or oil will melt.  Once melted, remove the pan from the oven (about 3-5 minutes, watch it closely because you don't want to burn the butter!)
While the oven pre-heats place the eggs in a blender and turn on high for 10 seconds.  Then add the milk and turn on for another 10 seconds.  Finally add the flour and blend again for 10 seconds.
Once the oven is pre-heated turn the blender on again for 25 seconds.  When you are done blending pour directly into the pan with melted butter or oil and place in the oven.  Bake for 18-20 minutes.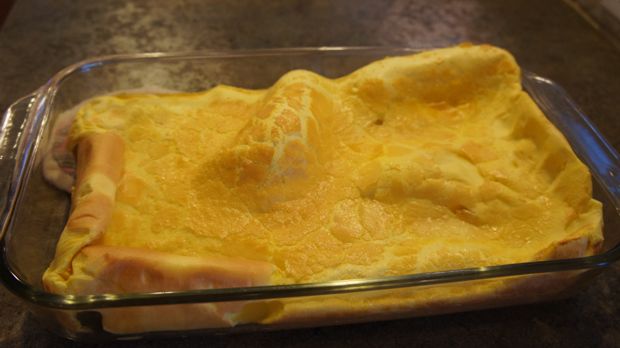 Berry Sauce
Place the frozen fruit in a small sauce pan or microwave safe dish.  Heat until warm, 2-3 minutes.  Once the berries are heated through add in the sugar and corn starch, mix well.  Continue heating until thick and bubbly, 1-2 minutes.
Serve the sauce on top of individual servings of Dutch Babies.