This cake is a dark chocolate lovers dream…dense, rich, slightly sweet, deep in flavor.  Paired with the sweet and tangy raspberry sauce it is a match made in heaven!
I made this cake for my brother's 30th birthday celebration and my dad's 58th.  My brother loves chocolate and my dad, as well as my whole family, has a deep appreciation for dark chocolate (we have a tradition of a dark chocolate tasting evening at Christmas time!)  This was the perfect cake to blend these two loves together.  I was so excited to make this cake for my dad and brother, I love them so much and appreciate their daily presence in my life.  I hoped to bless their appetites with this cake, and I succeeded!
The cake was enjoyed by everyone who tried it, even the kids!  In fact, Zac is requesting his first "grown up" non-decorated cake this year for his 8th birthday and guess what he wants?  That's right, this cake!
Believe it or not, this cake is not too hard to make.  The most challenging thing is having patience enough to beat the eggs until they double in volume, but if you have a stand mixer just turn it on high and go get something done for at least 8 minutes, multitasking at it's finest, my favorite!  Another thing I love about this cake is it can be made up to 2 days ahead of time without the taste being compromised at all.  Speaking of taste, be sure you use good quality chocolate for this recipe, the flavor depends on it!  If you like less dark chocolate, be sure to opt for semisweet instead of bittersweet, it really will change the overall result.
So next time you really need some chocolate or have a chocoholic to celebrate give this cake a try.  It is sinfully good and one cake can feed a crowd, it is rich and a thin slice goes a long way!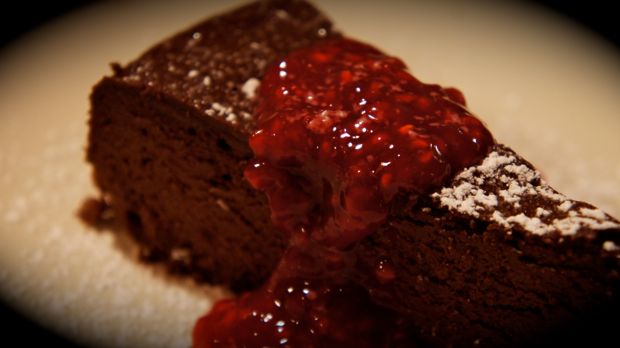 Flourless Chocolate Cake with Raspberry Sauce
Adapted from America's Test Kitchen
1 pound semisweet or bittersweet chocolate, chopped coarse
16 Tbs. butter, cut into 16 pieces
1/4 cup espresso or strong coffee
8 large eggs, cold

Raspberry Sauce

3 cups fresh or frozen raspberries
2 Tbs. cornstarch
4 Tbs. lemon juice
1/2 cup sugar
Adjust the oven rack to the lower middle position and preheat the oven to 325 degrees.  Lightly coat an 9 inch spring form pan with oil spray, then line the bottom with parchment paper.  Wrap the outside of the pan with 2 sheets of heavy foil and set in a large roasting pan.
Put the chocolate, butter, and coffee together in a large bowl and microwave, whisking often, until the mixture is melted and smooth, 1-2 minutes.  Set the bowl aside and let the chocolate cool slightly.
Whip the eggs in a large bowl with an electric mixer on high speed until they double in volume, 8-12 minutes.  Using a rubber scraper fold one-third of the whipped eggs into the chocolate mixture, until only a few streaks of egg are visible.  Repeat twice more with the remaining eggs, then continue to fold until there are no streaks remaining.
Pour the batter into the prepared pan and smooth the top.  Set the roasting pan (with the spring form pan inside) on the oven rack and pour boiling water into the roasting pan until it reaches about half way up the sides of the cake pan.  Bake until the edges are just beginning to set, a thin glazed crust has formed on the surface, and an instant read thermometer reads 140 degrees, 20-25 minutes.
Carefully remove the pan from the water bath and let cool completely on a wire rack, about 3 hours.  Cover with plastic wrap and refrigerate a minimum of 8 hours or up to 2 days (wrapped tightly in plastic wrap).
To make the raspberry sauce:  Place the raspberries, cornstarch, lemon juice and sugar in a small sauce pan.  Bring to a boil, stirring occasionally.  When the sauce has begun to boil stir until thickened, less than a minute.  Remove from heat and cool to room temperature or in the refrigerator until the cake is being served.
When you are ready to serve the cake run a paring knife around the edge of the cake to loosen, then remove the sides of the pan.  Line a plate with parchment paper and invert the cake onto the paper.  Carefully peel the parchment paper from the bottom of the cake.  Flip the cake upright onto a serving platter, discard the second piece of parchment.  Slice the cake carefully, using a sharp, thin blade knife dipped in hot water and wiped clean before making each cut.
Serve each piece topped with raspberry sauce and dusted with powdered sugar.