It's that time of year when I start thinking about summer life.  I am excited to play with my kids for the next few months, but I'm realistic enough to know that it won't be all fun and games.  It is a struggle to manage 4 young kids all day, everyday, for 3 months!  One thing I don't look forward to is snack time and lunch time.  Why?  Because I just get bored and worn out thinking about what to have or make for the never-ending phrase "I'm hungary!"  If I had a penny for each time I hear that everyday (even when the kids are in school) I'd be rich for sure.
So as a way to prepare myself for the inevitable battle of the hunger call I am attempting to remind myself of fun and creative snacks.  I find that I enjoy feeding snacks (and lunch) a bit more if I mix it up on occasion.  This is a versatile fruit sauce that fills the snack gap in so many ways, plus it's healthy, fresh, and delicious!  It is also a great snack for adults and a wonderful appetizer for a summer BBQ.
Fruit salsa, just thinking about it makes my mouth water.  The basic recipe is a mixture of apples, strawberries, and kiwis.  All chopped and mixed together it has a great sweet and tart flavor combo!  It is versatile too, I have used pears in place of apples, added a handful of blueberries, or even a mango, the sky is the limit!  So once you make this yummy salsa what do you do with it?  The options are endless really.  We dip rice cakes or sliced fruit in it, use it as a topping on pancakes or waffles, a filling for crepes, a topping for angel food cake, or eat it with a spoon!  I also love to make homemade cinnamon and sugar tortilla chips (recipe coming tomorrow) and use them for a dipper.  Make up a batch and give it a taste, you'll find all sorts of things to use it for, guaranteed!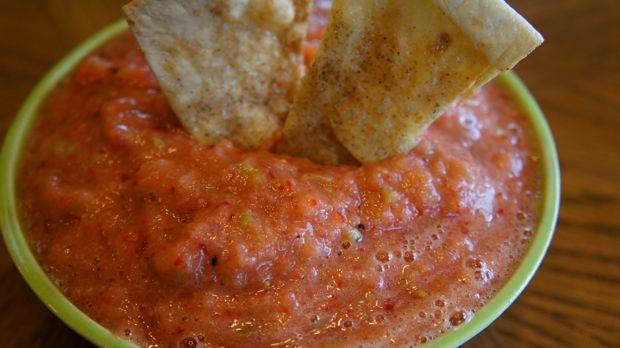 Fruit Salsa
2 large apples, granny smith or fuji are my favorite in this recipe
1 pound strawberries
2-3 kiwi
This recipe can be made using a variety of kitchen appliances or hand chopped (in which case it takes longer to make!)  I use my VitaMix Blender or my hand powered food processor, but you could use a regular size mechanical food processor, or a regular blender.
Core and slice the apples and place them in the bowl of the processor or blender.  Hull and quarter the strawberries and put them on top of the apples.  Finally add in the peeled kiwi.  Pulse to combine and chop the fruit.  The more you blend, the less chunky it will so watch closely and stop pulsing when the desired consistency is reached.  Serve with dippers (as mentioned above) or use as a topping.
This stores well in the refrigerator and lasts a few days, if you can keep yourself from eating it all in one sitting…