Do you have a special food memory from when you were a kid?  Something that sends you back in time when you think about it, see it, or smell it?  I was blessed with a Grandma who lived close by most of my growing up life and loved to bake.  She made bread, cookies, pies, bars of all sorts, butter horns, cake, and her famous chocolate chip cupcakes.  I don't know if there was ever a time I went to her house and there wasn't chocolate chip cupcakes on the counter, ready to be eaten.  She had them available when we had the desire to eat one (which was more often than not!)
It's been about 6 years since I've had one of my Grandma's chocolate chip cupcakes, but I can remember the smell and taste like it was yesterday.  Thankfully my Grandma is still around to hug and talk to, but she is no longer baking.  A few months back my Mom and I took an afternoon and went through her recipes (about 8 recipe boxes, piles of unorganized recipes, and books of cards.)  I was in search of her white bread recipe (I still think about the taste and smell, one of the best things I have eaten in my life.)  Unfortunately I didn't find the recipe in question, but I did recover some gems, one of which was her famous chocolate chip cupcakes!  I was thrilled and knew just when I would make them for the first time, our Haskins' Family Reunion.
As the reunion weekend was approaching I made a few batches of cupcakes to try to make sure they were perfect and then last weekend at the reunion I surprised my cousins and family with Grandma's cupcakes once again.  It was such a blessing to me to see the smiles and happy faces as they tasted "Grandma's cupcakes" again!  Not only did they love them, they wanted the recipe.  So here you go, make and enjoy and think about what a blessing grandma was and is to us every time you take a bite or smell the wonderful sweet treat!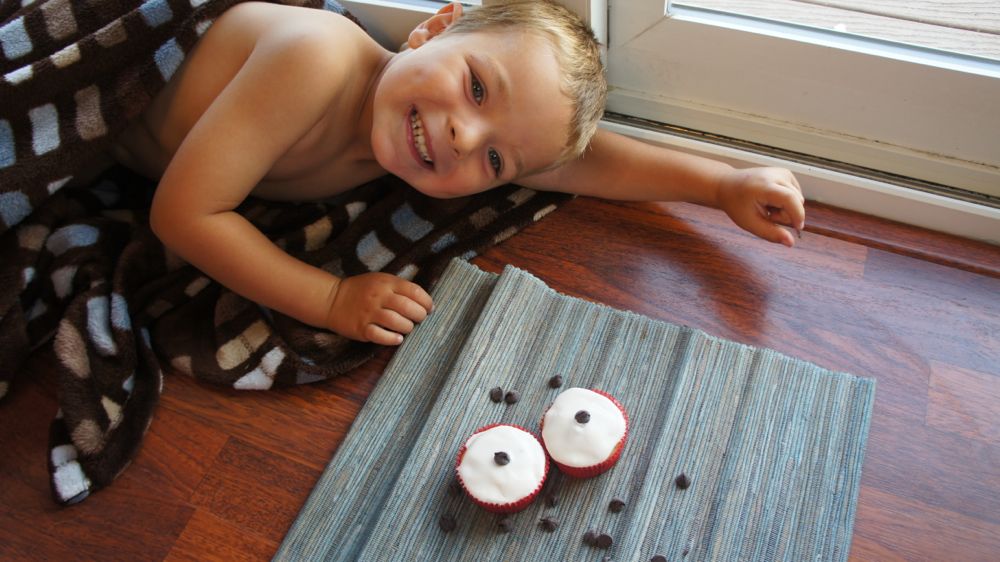 Austin's excited about eating cupcakes!
Grandma's Chocolate Chip Cupcakes
1/2 cup butter, softened
1 cup sugar
2 eggs
1 1/2 tsp. vanilla
2 cups flour
1/2 tsp. salt
2 1/2 tsp. baking powder
1 cup milk
2 cups chocolate chips

Frosting

1 1/2 cups powdered sugar
2 Tbs. butter, softened
1/2 tsp. vanilla
2-3 Tbs. milk
Preheat the oven to 375 and line 2  cupcake pans with liners (normally I don't use paper liners, but in this case I struggle with the cupcakes holding together if I use spray.)
In the bowl of a stand mixer creamy together the butter and sugar until light and fluffy, about 5-6 minutes.  Once the butter and sugar are creamy add in the eggs, one at a time, mixing well between each addition.  Stir in the vanilla.
In a separate bowl whisk together the  flour, salt and baking powder.
Pour one-third of the  flour into the batter and mix until combined.  Then pour in half the milk, stir until combined.  Then add the second third of flour, followed by the rest of the milk, mixing well between each addition.  Finish off by stirring in the rest of the flour.
When all ingredients are well mixed stir in the chocolate chips.
Fill the cupcake pan with the batter, about 2/3 to 3/4 full.  Bake for 16-19 minutes, until very lightly browned and a toothpick inserted comes out clean or with 1 or 2 crumbs.
While the cupcakes are cooling beat together, using an electric mixer, the powdered sugar, butter, vanilla and 1 Tbs. milk. Slowly add additional milk a half tablespoon at a time, until the desired thickness of frosting is achieved.
Frost each cupcake when cooled and store covered in an airtight container on the counter.
*My brother and cousins love these cupcakes reheated in the microwave for 5 seconds before eating.