I grew up thinking green beans came in a can, and I didn't like them!  The soft texture, the salty taste, there just wasn't much appealing about them…then I discovered fresh green beans, oh yum!  There is SO MUCH that can be done with them.  I love fresh green beans!
This salad was born from  the desire to make something traditional for Thanksgiving (green beans) with a non-traditional flavor (Greek).  I was really winging it when I through this together and I am thankful to report it turned out wonderful!  I got rave reviews from the family and I loved it myself.  The only thing I would do is add some fresh or sun-dried tomatoes, I think that would take it over the top, but unfortunately I didn't have any and I wasn't going to fight the day before Thanksgiving crowds so we made do without.
This salad is a great make ahead dish.  The dressing flavors blend when it sits, perfect for Christmas dinner, a potluck, or a make ahead meal.  Throw a little chicken in with it and you've got a complete meal, enjoy!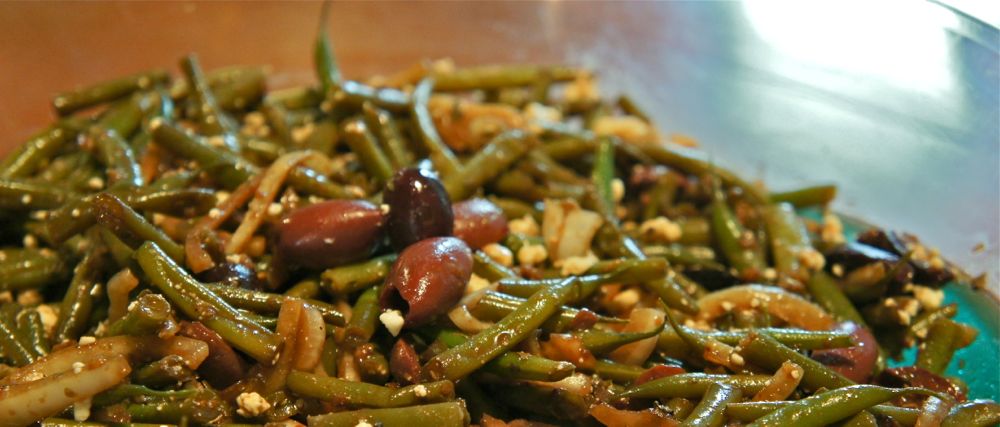 Greek Green Bean Salad
Inspired by Kalyn's Kitchen
1 1/2 pounds green beans
1 cup balsamic vinegar
1 1/2 Tbs. Dijon mustard
1 tsp. dried oregano
1 tsp. dried basil
6 cloves garlic, minced or pressed
1/2 tsp. sea salt
fresh ground pepper
1 cup greek olives
1/2 onion, sliced thin
1 cup feta cheese
Using a steaming basket on the stove or in the microwave steam the green beans 3-5 minutes, or until softened but still a touch crispy.  When the beans are done steaming pour into a colander and rinse with cold water to cool and drain.
While the beans are cooling mix the dressing together in a small bowl.  Combine the vinegar, mustard, oregano, basil, garlic, salt and pepper.  Whisk and taste, adjust salt and pepper as desired.  Set aside.
Cut the green beans into bite size lengths, about 2 inches.  Place them in a large bowl that has a lid.  Slice the onion into thin pieces, about the same length as the green beans.  Stir  the onions into the bowl with the green beans.  Then stir in the olives, leaving them whole or slicing in half, whatever you desire.
Pour the dressing over the bean mixture and stir to coat the beans, onions, and olives.  Cover and refrigerate at least a few hours and up to 24 hours.  Just before serving stir the feta cheese into the salad.  Serve cold.