I was blessed to spend the good part of my Saturday preparing food for my dear friend Caitlin's baby shower.  She is a friend who is dear to me and I loved showering her with presents and food this weekend!  Hopping  baby (gender unknown) will stay put until the end of this month or beginning of next.
I made this salad special for her shower.  It was a hot weekend and we needed some cool food, although it was so hot that by the time people ate it I'm not sure it was too cool!  This salad is great for a potluck, celebration, or a cool summer dinner.  It serves 8 as a side dish, but 3-4 if it is used as a main dish.
The green beans are covered in bold flavors.  I like them still crunchy so the steaming time is short, if you prefer more well done green beans increase the steaming time to about 8 minutes, checking for doneness every minute or two.  However you steam it, this salad is good, and better yet, it keeps nicely made a day or two in advance.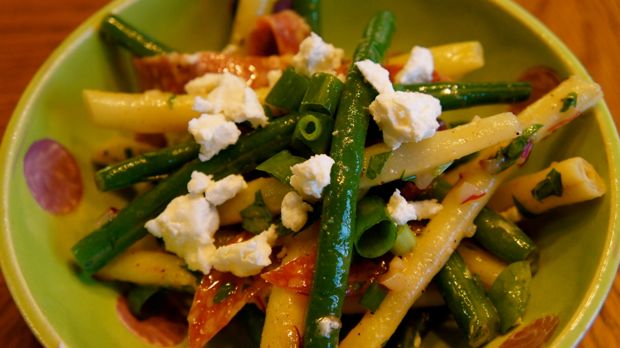 1 pound green beans, ends trimmed
3 Tbs. finely chopped fresh parsley
3 Tbs. finely chopped red onion
1 1/2 Tbs. olive oil
1 Tbs. red wine vinegar
2 tsp. Dijion mustard
2 garlic cloves, minced or pressed
Kosher Salt
Freshly ground black pepper
1 green onion, sliced
10 salami slices, cut into ribbons
1 oz. goat cheese
Cold Green Bean Salad with Salami
Inspired by the FoodNetwork
On the stove using a steamer basket or in the microwave, steam the green beans 3-4 minutes, or until desired doneness is reached.  Place the green beans in a large bowl and set aside to cool.
In a small bowl combine the parsley, red onion, olive oil, vinegar, mustard, garlic, salt, and pepper.  Stir until well combined and then drizzle the dressing over the top of the green beans.
Mix in the green onions and sliced salami.  Sprinkle with the goat cheese and serve at room temperature or refrigerate and serve chilled.  The salad can be made at least one day ahead of time.