We are in the midst of kale season!  I've got kale everywhere in my garden!  As much as I like cooking with it (and blending it) I can't keep up.  A great way I've found  to eat kale (and feed it to my kids) and feel like you are having an crunchy snack is to make kale chips.  My kids love them and so do I!  They are so simple to make, and delicious to eat.  What's better than that?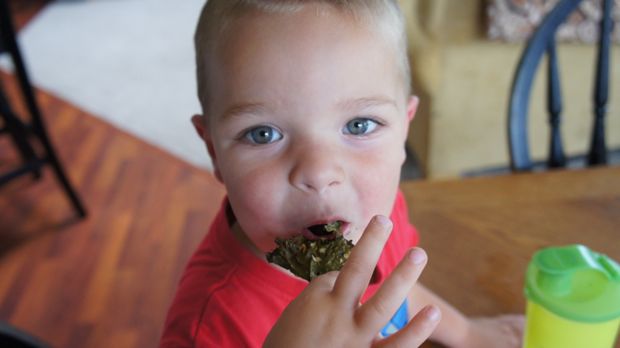 Ally and Austin love this snack.  Look at Ally's face, that is pure taste enjoyment right there!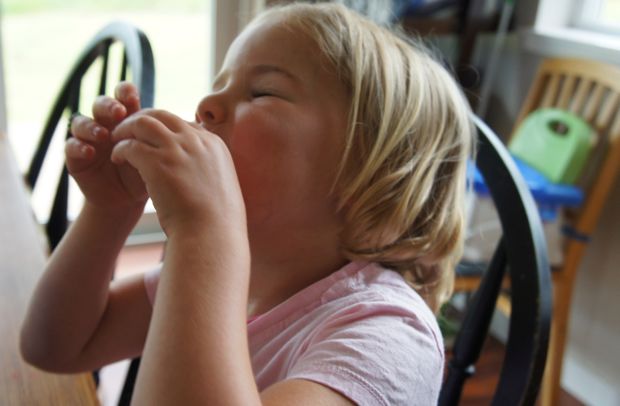 Kale Chips
6-8 large kale leaves
Olive Oil
Kosher or Sea Salt
Freshly Ground Pepper
Parmesan Cheese (optional)
Preheat the oven to 375.  Line two baking sheets with wax paper or a silicone baking mat.
Wash the kale leaves and remove them from the thick stem.  Break the leaves into chip size pieces 1-2 inches.  Spread the leaves across the two baking sheets and spray liberally with olive oil.  Sprinkle with kosher or sea salt and freshly ground pepper.  For a different spin in this tasty  treat, sprinkle a small amount of fresh parmesan on top.
Bake for 8 minutes and rotate the pans in the oven.  Continue baking for 4-8 minutes longer.  Watch these closely the last few minutes.  It is easy to burn the edges.
When they are crispy, but not black, remove the chips from the oven.  Let cool for a minute.  Remove from the pan and devour!
Looking for other kale recipes?  Give one of these delicious soups a try!