I told you I've been in an Asian food mood, right?  This dish is no exception, but it is so wonderful and simple.  Don't you just love meals you can prepare ahead of time and then enjoy your day?  Earlier this week it was nice enough that we spent 5 hours at the beach!  Needless to say, I was not in the mood to prepare dinner when we got home, but thankfully I didn't have to because I had gotten this meal ready in the morning before we left.  All I had to do was wrap it up and throw it on the grill for 15 minutes and dinner was served.
This recipe base was given to me by a friend's mom several years ago.  I have made it a few times and added a couple of my own touches, but that basic idea is just the same.  The flavor is amazing and it leaves you with hardly any dishes to clean up.  I like to make this on the grill wrapped in foil because it is really fun, but it would be great broiled on a rimmed cookie sheet in the oven as well.
1 1/2 pounds beef top sirloin
2 carrots, julienned
1 yellow pepper, sliced
2 small red onions, diced
4 green onions, sliced
1 cup mushrooms, optional

Marinade

1/2 cup soy sauce
3 Tbs. sesame oil
3 Tbs. sesame seeds
4-5 cloves of garlic, pressed or minced
1 Tbs. sugar or honey
1 1/2 tsp. black pepper
pinch of red pepper flakes, optional
As I was making this earlier this week I got to thinking, this would be a GREAT camping dinner, just prepare at home and throw it on the grill, or in the fire, at camp! Ta-da, dinner is served and it tastes like great Asian take out, perfect!
Korean Beef – Bulgogi
Adapted from allrecipes
Slice the steak, carrots, pepper, onions, and mushrooms and place in a large (gallon sized) zip lock bag.
In a small bowl whisk together the marinade.  Pour the marinade into the bag and over the meat and veggies.  Seal the bag and make sure the marinade is well mixed with the veggies and steak.
Refrigerate for at least 2-3 hours, or up to 10 hours, flipping the bag periodically during the marination, if possible.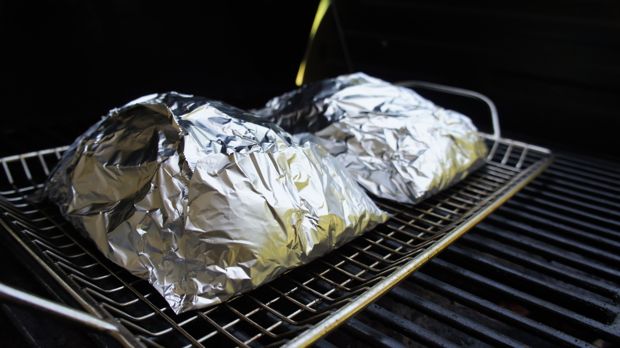 At meal time:  Preheat the grill to high.  Drain the meat and veggies of the excess marinade, using a colander, about 5 minutes.  Lay out two large pieces of foil on the counter.  Divide the meat and veggies in half and put each half on the foil.  Wrap the meat and veggies up with 2 pieces of foil. (As pictured above)
When the grill is hot place the foil wrapped beef on the grill's  grate and grill for 15-20 minutes.  Serve hot with freshly streamed rice or quinoa.  Garnish with extra green onions, sesame seeds, or red pepper flakes, if desired.