Wow, what a weekend we had!  It was my daughter Zoey's 6th birthday celebration and boy did we have fun.  The weather cooperated and we enjoyed lots of sun and great time together as an extended family.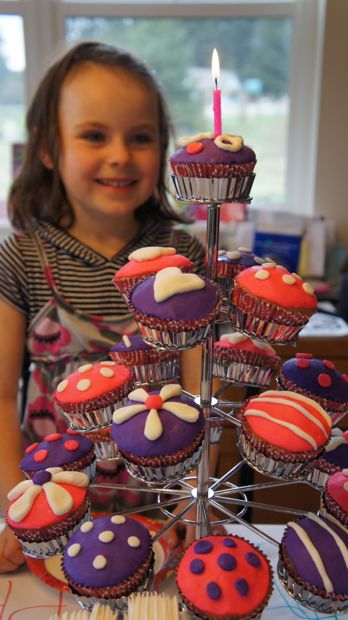 Our birthday girl and her beautiful cupcakes!
Part of a birthday celebration in our family is chicken legs and thighs.  I'm not sure how that started, but the kids equate birthday parties and smoked or barbecued chicken.  This weekend we barbecued using a dry run.  It really helps bring out the flavor of the chicken and makes sauce unnecessary (but still tasty if you prefer!)
This is a versatile rub, we have used it on chicken, ribs, and brisket.  It would also be great on pork or steaks.  I normally make up a big batch and store it in a recycled spice container with big holes (like the kind from Costco.)  This way I have it ready to go whenever the urge to smoke or grill arises.  Yippee for the outside cooking season being officially underway (at least in our house)!
2 Tbs. paprika
1 Tbs. salt
1 Tbs onion powder
1 Tbs. black pepper
1 Tbs. garlic powder
2 tsp. cumin
1-2 tsp. cayenne
Memphis Rub
Adapted from Ultimate BBQ blog
Mix all seasonings together in a medium sized bowl.  Sprinkle generously on meat before barbecuing.
*If you are barbecuing chicken pieces pull the skin back, sprinkle or rub under skin and then return skin before grilling.  Not removing the skin keeps the chicken moist and pulling it back gets the seasoning on the chicken, not just on the skin.