Creamy, slightly tart, fresh, icy…these are just a few of the words that come to mind when I think about drinking an Orange Julius.  This homemade version is delicious, simple, quick, and way better than the type you can buy in the mall.  I grew up loving this drink and now my kids do as well.  When they are sick (which has happened WAY too often lately) this is what they want.  It is a great boost of vitamin C and can help with a sore throat.  Don't get me wrong, it doesn't taste like "sick food" but it is a great thing to have when you are.
So whether you're struggling with the fall and winter colds or just in the mood for a fun morning or afternoon snack, give this a try!  You'll keep coming back for more, and more, and more!
6oz. frozen orange juice concentrate (half a frozen can)
1/4 cup sugar
1 tsp. vanilla
1 cup milk
1/2 cup water
2 cups of ice (or so)
Orange Julius
Combine the orange juice concentrate, sugar, vanilla, milk, and water in a blender.  Blend until combined.
Add in the ice and blend on high until the ice is crushed up and the drink is thick.  Add more water or ice depending on desired consistency.  Enjoy with a straw and topping with whipped cream (if you want to get fancy!)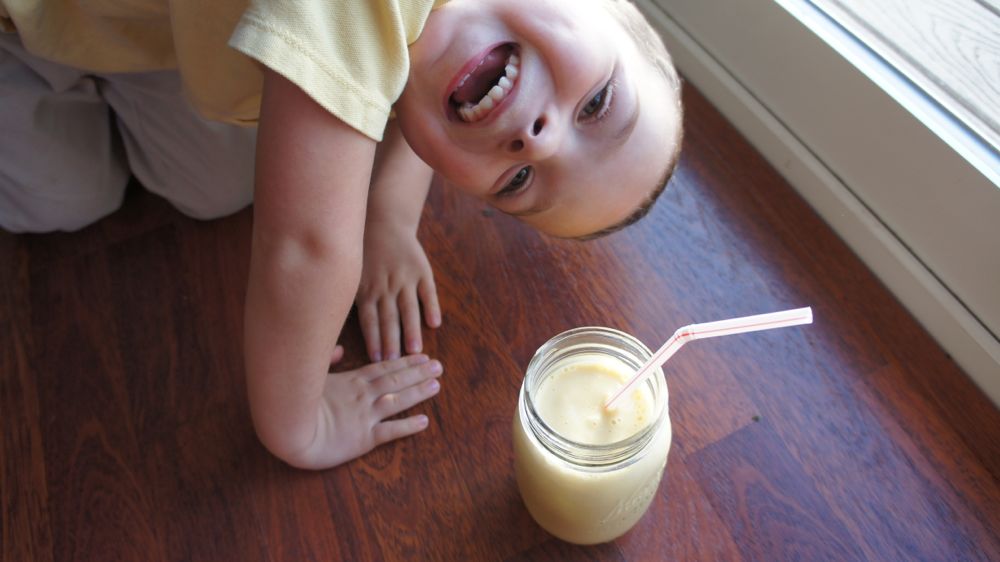 Austin is VERY excited for his orange julius and happy I'm sharing it on my blog!