I've been experimenting with using flours other than the traditional white flour in my baking, it has been fun and a great learning experience so far!  I have used flax meal in one cookie recipe I shared here and now I am playing with almond flour/meal, I love it!  The reason I am experimenting is multifaceted, but the two basic reasons are I want to learn to bake gluten free items because more and more people in my life are gluten free.  Secondly, I want to bake treats that are lower in carbohydrates and higher in protein.  It is a lot of fun to learn this new area of baking!
These muffins are unexpectedly tender, have just enough sweetness, and are very filling.  I really enjoyed having one with a smoothie for breakfast and it kept me nice and full until lunch.  The kids loved these muffins too and had no idea they were "different" than normal.  Since each muffin went a long way, in terms of keeping us full, they lasted a lot longer than most muffins do in our family and they kept, on the counter, in an airtight container, wonderfully.  I didn't try and freeze them, but I have a feeling  they would freeze well too!
My favorite thing about these muffins, besides the amazing fall flavor and soft texture, is I didn't feel guilty eating one because I knew everything in them was good for me!  No refined sugars, no white flours, but still great taste!  (Don't get me wrong I LOVE normal muffins, I just can't have them on a regular basis or my pants start to not fit so well and I don't want to buy new pants…)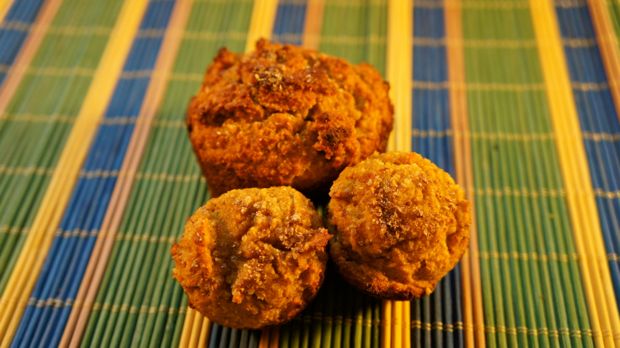 Pumpkin Muffins GF
Adapted from nourishingmeal.com
2 cups almond flour
½ cup coconut flour
½ cup unsweetened coconut
1 ½ teaspoons baking powder
½ teaspoon baking soda
½ teaspoon sea salt
1 tablespoon pumpkin spice
1 teaspoon cinnamon
1 cup pumpkin puree
½ cup agave or maple syrup
1 tsp. vanilla
6 large eggs
ground flax (sprinkled on top)
Preheat the oven to 350 degrees and prepare a muffin tin by spraying or using paper liners.
In a large bowl stir to combine the almond flour, coconut flour, coconut, baking powder, baking soda, salt, pumpkin spice, and cinnamon.
In a food processor, blender, or by hand mix together the pumpkin puree, agave or maple syrup, vanilla, and eggs until completely combined and no lumps remain. (This would take a lot of work by hand so try this method only if you are up for some serious mixing!)
Pour the wet ingredients into the dry and stir to combine.
Fill each muffin tin with dough 3/4 of the way full.  Sprinkle with ground flax seed.  Bake until browned, 20-25 minutes for regular sized muffins and 10-13 minutes for mini.  Cool on a wire rack.