I love scones, they seem special and for many years I was too intimidated to make them, but once I took the plunge I realized I was being silly, they are simple to make and worth the little extra time they take to shape.  The thing I love about these scones is you can make the flour butter mixture and the sour cream mixture and place both in the refrigerator, then later (or the next morning) you can pull them out, combine, and have warm scones in less than a half an hour.  This saves a lot of time and makes the scones possible for breakfast, even if you have hungry kids who have a hard time waiting!
These scones were inspired by my mom (it's been a mom kinda week on Fresh Is The Taste, huh?)  She loves raspberries, crunchy things (like nuts and seeds), and, as she would say, "she's all about fiber."  These scones have all of that, I hope you liked them mom!
2 cups flour
1 cup whole wheat flour
1 cup oatmeal
2/3 cup sugar
3/4 cup toasted and roughly chopped almonds
2 tsp. baking powder
1/2 tsp. baking soda
1 tsp. salt
1 cup butter, cold
1 cup sour cream
2 large eggs
1/2 tsp. almond extract
1/2 tsp. vanilla extract
1 cup raspberry jam
Raspberry, Almond, Oatmeal Scones
Based off of a allrecipes.com recipe 
Pre-heat the oven to 400 degrees.  Place both kinds of flour, oatmeal, sugar, almonds, baking powder, baking soda, and salt in the bowl of your food processor.  Process for 15-30 seconds.  Cube the butter and sprinkle over the top of the flour mixture.  Turn the food processor back on and process until the butter is in small pea size pieces, about 10 seconds.
In a separate bowl combine the sour cream, eggs, and extracts. (If you mix this together at night and want these for the next morning you can stop at this stage and refrigerate the flour butter mixture and the sour cream mixture, before they are  combined.  Remove from the refrigerator the next morning, combine, shape, and bake!)  Pour the mixture into the bowl of the food processor and process until incorporated, 15-30 seconds.  Once the flour is moistened and in a ball dump the dough onto a lightly floured surface (the dough will be dry).  Using your hands combine the rest of the flour into the dough and separate in half and make two same sized balls.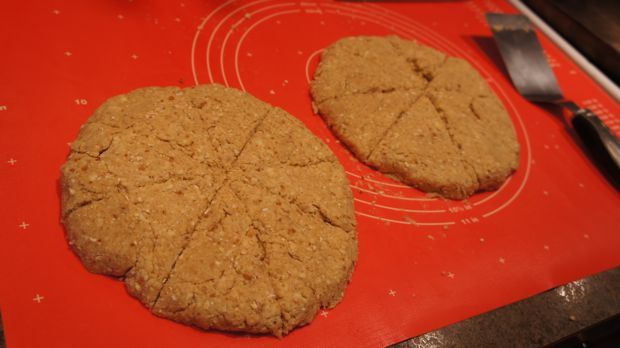 Pat the 2 balls into circles, 7-8 inches across and about 1 inch thick.  Cut the circles into 8 slices (or pieces) and transfer to 2 parchment lined baking sheets.  Using a spoon (or measuring spoon) press a dip into the top of the scones and fill with 1 tablespoon of raspberry jam.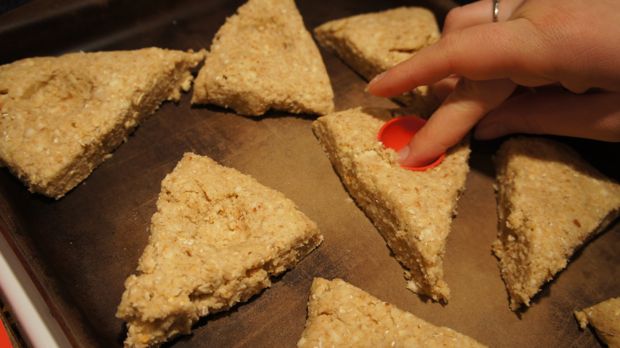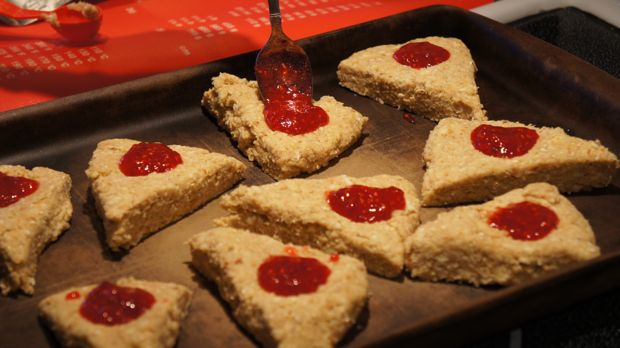 Repeat until all the scones are topped with jam.  Sprinkle sugar over the top of each scone.  Bake for 15-17 minutes.  Let cool for 5 minutes and move to cooling racks.  Enjoy while they are still warm with a cup of coffee or tea!
This recipe makes 16 scones.  If this is too many for you, feel free to half the recipe or wrap them up and place in the freezer.  Pull one out, heat up, and have a fresh scone on another day!