Roasted pork shoulder roast takes a bit of time to cook, but it is super easy and the flavor is out of this world!  Make this on a day when you're planning to be home and enjoy the smell as it slowly roasts in the oven.
I used a small roast, 3 pounds with a bone, but you could definitely use a larger one if  that is what you have, just increase the roasting time by about an hour.  I wished I had a bigger roast because I would have loved to have left overs.  The meat is wonderful, but so are the veggies and the sauce.  Plan to serve it with something that can soak up the flavorful juices!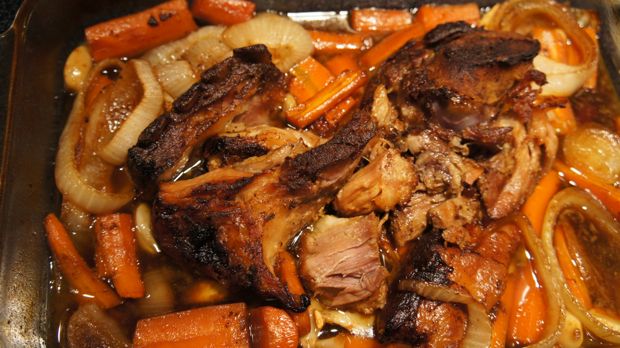 Roasted Pork Shoulder
Slightly adapted from finecooking.com
1 3 pound pork shoulder roast
1 Tbs. kosher or sea salt
1 tsp. black pepper
1 tsp. mustard powder
1 large onion, sliced in 1/2 inch thick rings
4 carrots, cut in half and in 2 inches long pieces
15 garlic cloves, peeled
1 cup white wine or apple juice
1 cup water
Combine the salt, pepper, and mustard powder in a small bowl.  Cover the roast with the seasoning mixture, wrap in plastic, and refrigerate for at least 8 hours or up to 3 days.
Take the roast out of the refrigerator and bring it to room temperature, 1 1/2 hour to 2 hours.
Preheat the oven to 300 degrees and place the roast in a roasting pan.  Roast until tender everywhere but the very center when pierced with a fork, about 3 hours.  Add the onions, carrots, garlic, wine/apple juice and water.  Place the roast back in the oven and cook for another hour.
Remove the roast from the oven and raise the oven temperature to 375°F. Using tongs, separate the pork into a few large chunks and spread out on the pan.  Return the pork to the oven and continue to roast until nicely browned on the newly exposed surfaces, about 15 minutes.  Remove pan from the oven and serve.