I just LOVE Thai food.  If I had it my way, we'd go out for Thai once a week, but since I don't get it my way, I have to make it at home! It is fun to make, and exciting to create my very own "take out."  I don't know about you, but I feel accomplished when I make something ethnic.
This dish is easy, it can be done in less than 30 minutes, from start to eating!  That's my kind of dinner.  I made this most recently on a night when I felt like any little thing might send me over the edge, do you ever have those kind of nights?  Well thankfully I was left to cook in "peace" while the girls did art at the table and Austin proceeded to "peel" the garlic bulb all over the kitchen floor and then "clean" it up!  Oh well, dinner got made and everyone lived through it!  To top it off, we had Thai to eat as a result and that just lifted my spirits.
This dish is easy to prepare, but you do need a few semi special ingredients.  The coconut milk it easy to find on any grocery store "ethnic" aisle, as well as the rice noodles or rice sticks.  The trick with the rice noodles/sticks is to soak them in hot water for about 15-20 minutes before you want to eat.  They become soft and then you just throw them into the sauce right before serving.
So next time you feel like making homemade "take out" give this a try, it easier on the budget, supper tasty, and you get to control the quality of ingredients you use (unlike restaurant food where you have NO idea what you really are eating…)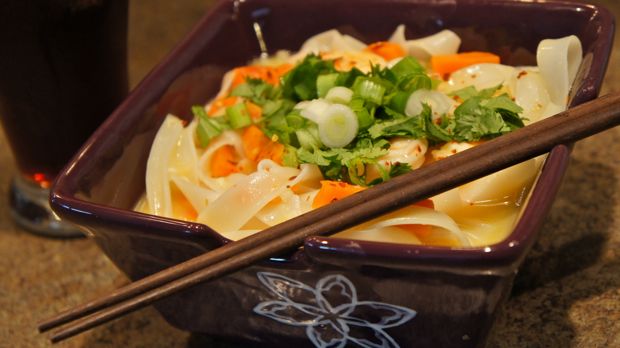 1 Tbs. coconut or canola oil
1 1/2 Tbs. fresh grated or finely minced ginger
3-4 cloves garlic, minced
1/4 - 1 tsp. red-pepper flakes
4 medium carrots, halved lengthwise and thinly sliced
1 large red, yellow or orange pepper, thinly sliced
1 can coconut milk
3 cups water
1 Tbs. cornstarch
1 1/2 pounds large shrimp, peeled, deveined, and tails removed
2 limes, juiced
4 green onions, sliced
1/2 cilantro, chopped
4-6 ounces rice noodles (or rice "sticks)
Salt
Thai Coconut Shrimp Noodles
Adapted from Martha Stewart
In a large fry pan or sauce pan heat the oil to medium high heat.  While the pan is heating place rice noodles or sticks into hot water and set aside.  When temperature in the pan is reached add the ginger, garlic, and red pepper flakes.  Sauté until fragrant, 30 seconds to a minute.  Add in carrots, peppers, coconut milk and water.  In a small bowl mix cornstarch and 1 Tbs. cold water.  When well mixed, stir cornstarch mixture into the pan.  Bring to a boil.
Cover pan, reduce heat to medium low, and cook for 5 minutes, or until the carrots reach desired tenderness.  When carrots are just tender, return heat to medium high and add shrimp.  Stir the shrimp until just pink, about 1 minute.  Remove pan from heat and add lime juice and season with salt.
Drain rice noodles/sticks using a colander and add to the pan.  Combine with sauce until the noodles are well coated.
Serve in bowls and garnish with green onions, cilantro, add additional red-pepper flakes, if desired.