I love cheesecake, I love raspberries, I don't like white chocolate, but this cheesecake is to die for.  Honestly it tastes like something you would get at a restaurant, and it looks like it too.  This is a perfect Father's Day dessert if the father in our life likes cheesecake!  It can be made a few days in advance and stores wonderfully in the refrigerator.  I love a dessert that tastes fresh, but doesn't have to be made just before it is served.
There are several steps to making this cheesecake but don't let that scare you away, none of the steps are very hard or time consuming.  Just take it one step at a time and it will turn out beautiful.  Speaking of beauty, the baking method described below in which the spring form pan is baked on a cookie sheet filled with water is essential for a perfect top to your cake, so take the time and extra step to use this method, it is worth it!
I hope you take the time to spoil yourself someone in your life with this cake!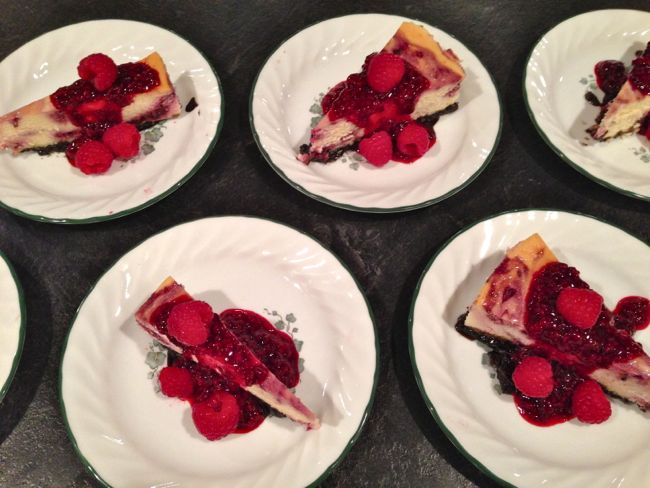 White Chocolate Raspberry Cheesecake
Adapted from allrecipes.com
Crust

18 Oreo cookies (or Joe Joe's from TJs)
1/4 cup sugar
5 Tbs. melted butter

Raspberry Sauce

16 ounces raspberries, fresh or frozen
2 Tbs. sugar
2 tsp. cornstarch
1/2 cup water

Cheesecake

2 cups white chocolate chips
1/2 cup half and half
3 (8 ounce) packages cream cheese, softened to room temperature
1/2 cup white sugar
3 eggs
1 tsp. vanilla
Fresh raspberries, as a garnish
In the bowl of your food processor chop the cookies until they are uniformly crumbly.  Add in the sugar and pulse to combine.  Finally, pour in melted butter and pulse until the cookies look like wet sand.  Press the mixture into the bottom of a 9 or 10 inch spring form pan and set aside.
In a small sauce pan over medium heat combine the raspberries, sugar, cornstarch and water.  Bring to a low boil and cook until thickened, about 3-5 minutes.  Remove sauce from the heat and set aside.
Preheat your oven to 325.  In a medium glass bowl combine the white chocolate chips and half and half.  Microwave at 30 second intervals, stirring each time, until white chocolate is melted and the mixture is smooth.  Set white chocolate mixture aside.
In the bowl of your stand mixer cream together the cream cheese and sugar.  When smooth and well mixed beat in the eggs, one at a time, scrapping down the bowl between each addition.  Blend in the vanilla and the melted white chocolate.
Pour half the batter over the crust and spoon 6 tablespoons of raspberry sauce over the batter.  Pour the remaining cheesecake batter into the pan and then dollop 3 tablespoons of raspberry sauce on top.  Swirl the sauce into the batter with a knife to create a marbled look.
Wrap the bottom of the spring form pan in foil and place it on a rimmed cookie sheet.  Place the cookie sheet and spring form pan in the oven and fill the cookie sheet with water.  Bake the cheesecake for one hour at 325, then turn the heat off and let the cheesecake sit in the oven for another hour.  The cake will still be wiggly when it is removed from the oven.
Let the cake cool to room temperature on the counter and then cover with plastic wrap and refrigerate for at least 8 hours before serving.  Garnish each slice with fresh raspberries and the remainder of the raspberry sauce.