My youngest child, my baby, turns 3 today.  That sentence can be said with quiet voice filled with sadness or a shout of excitement and ring true.  I am grieving the years of babyhood gone by, a place I lived in constantly for 7 years, and I am excited about this new phase of life, free of diapers, cribs, high chairs, pacifiers, strollers, the list could go on and on.  These new years are scary, so much unknown as the kids grow older, but they are full of wonder, excitement, learning, and joy.  As of today I have 2 preschoolers, a first grader, and a second grader, wow! So that's enough of my reflective self, now onto the reason you all come here, the food…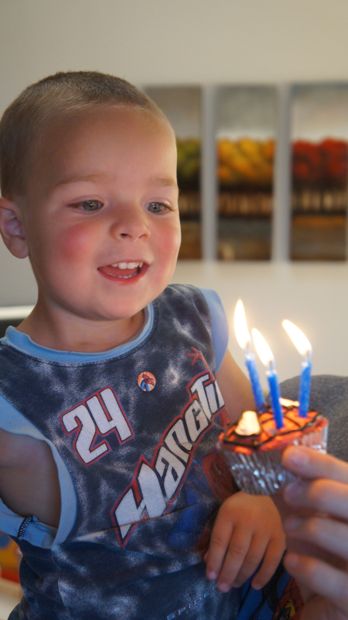 Austin has been anticipating his birthday for a few months now.  He has talked about what his day would look like and the one thing that has remained the same over the months is his desire for "spiderman cupcakes."  If someone asked him what kind of cake he wanted he would say, "no cake, spiderman cupcakes!"  In our house I bake the cake and make the frosting and Brandon does the decorating.  He has created some amazing designs over the years, and this birthday was just as great!
Brandon could write a blog post about his decorating skills, and maybe I'll get him to do that someday, but the part I do (and blog about) is making it taste good.  I learned many birthday parties ago, yellow or white cake is the way to go.  Although chocolate cake tastes yummy, it gets everywhere and if kids are going to be involved (when are they not!) I prefer to reduce the mess.  The good thing is, I have a easy yellow cake recipe that tastes amazing and is really reliable.  It is from America's Test Kitchen and it is my go to recipe for cupcakes.  These spiderman cupcakes were made using this recipe for the cake and the America's Test Kitchen Quick and Rich Vanilla Frosting recipe for the red and white frosting base.  They were both a crowd pleaser, as usual, and tasted great, even a few days out.  So next time you're tempted to reach for a boxed cake, take a few extra minutes and give these cupcakes a try, my guess is, you'll never go back to boxed!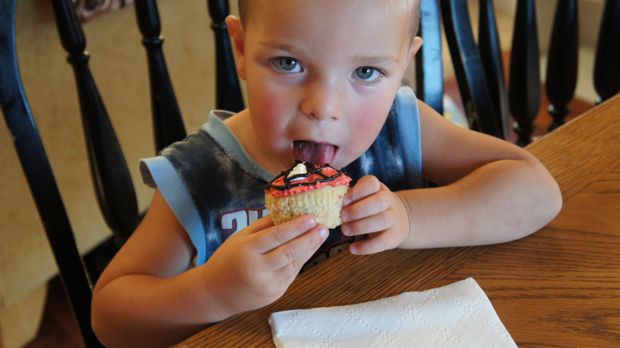 Yellow Cupcakes
Recipe by America's Test Kitchen
3 cups cake flour*
1 tsp. baking powder
1 teaspoon salt
1/4 tsp. baking soda
4 large eggs, at room temperature
2 tsp. vanilla
1 1/3 cup sugar
12 Tbs. butter, melted and slightly cooled
1 1/4 cup buttermilk**
*I never have cake flour so I put 2 Tbs. cornstarch in the bottom of my 1 cup measuring cup and fill the rest with flour for each cup, it works great!
**As a substitute for buttermilk I use 1 Tbs. lemon juice in each cup of milk and let it sit for 5 minutes before using, perfect substitution!

Vanilla Frosting

2 1/2 sticks butter, softened
2 1/2 cups powdered sugar
2 Tbs. heavy cream
1 tsp. vanilla
Preheat the oven to 325 and line 2 muffin tins with liners.  Whisk the flour, baking powered, salt, and baking soda together in a large bowl, set aside.
Whisk the eggs and vanilla together in a large bowl.  Slowly whisk in the sugar until combined.  Whisk in the melted butter, in 3 additions, until completely combined.  Whisk in the buttermilk.
Add one third of the flour mixture to the liquids and whisk until a few streak of flour remain.  Repeat twice over the batter with remaining flour and continue to whisk until most lumps are gone.  Do not over-mix.
Fill the cupcake liners 2/3 full with batter.  Bake until a toothpick inserted into the center of the cupcake comes out with a few crumbs attached, 16-20 minutes.  Cool cupcakes completely (at least 1 hour) before frosting.
Vanilla Frosting
Recipe by America's Test Kitchen
Beat the butter in the bowl of your stand mixer until smooth, 30-60 seconds.  Reduce the speed to medium low and slot add the powdered sugar, beat until smooth, 2-5 minutes.  Beat in the cream mixture.  Increase speed to medium high and beat until mixture is light and fluffy, 4-8 minutes.  Frost cupcakes as desired.  Makes 3 cups of frosting.