Although my clothes still aren't put away from our trip, I just HAD to bake this morning!  It had been a few weeks and the baking itch was pretty strong.  I am really trying to cut back on my carbs and sugar and lose the weight I put on over this last year, so I knew if I was going to bake it needed to be something healthy.
I love all the berries in season now!  I wanted to incorporate the blueberries in my fridge with the healthy baking desire and out came these scones.  They are moist, slightly sweet, and packed full of fiber.
I used all whole wheat pastry flour, which helps keep the tender texture you get from white flour, but the health benefits of whole wheat.  If you haven't given it a try before, it is worth it, but regular whole wheat flour would work just fine here too.
I wanted to incorporate oats into the recipe.  I mixed a few into the scones but the majority was incorporated by "rolling" the dough in oats instead of more flour.  This makes the dough a bit sticker than traditional scones, but it is still able to be handled.  So next time you want a treat with a little less guilt, give these a try!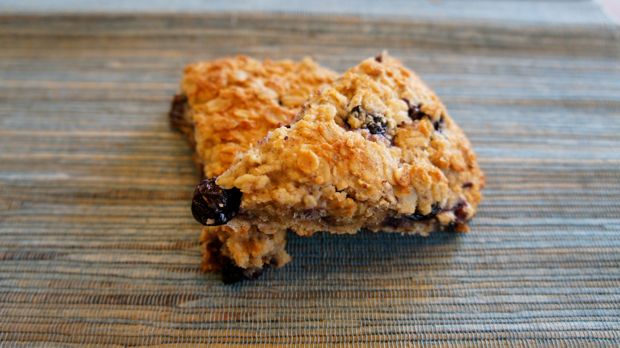 100% Whole Wheat Blueberry Oatmeal Scones
Adapted from Brooklyn Farmhouse
1 1/2 cups whole wheat flour (I used WW pastry, but regular would be just great!)
1/4 cup ground flax
2 tsp. baking powder
1/2 tsp. salt
1/2 tsp. powdered ginger
1/2 tsp. cinnamon
4 Tbs. cold butter, cut into small pieces
3 Tbs. coconut oil, in it's solid state
2/3 cup plain yogurt, I used Greek
1 egg
3 Tbs. honey
1 tsp. vanilla
1 1/2 cups rolled oats, divided
1 1/2 cups blueberries
Preheat the oven to 425.  Prepare a cookie sheet lined with wax paper or a silicone mat, alternatively use a well seasoned baking stone.
In a large bowl whisk together the flour, flax, baking powder, salt, ginger, and cinnamon.  Using a fork, pastry blender or your fingers cut in the butter and coconut oil until the dough resembled wet and coarse sand.
In a small bowl mix together the yogurt, egg, honey, and vanilla.  When the liquids are well mixed pour them into the dry ingredients and stir to combine.  Mix in 1/2 cup of rolled oats.  Finally, carefully fold in the blueberries.  The dough will still be fairly wet, but if it seems too wet you can add in a few tablespoons of flour.
Pour the remaining 1 cup of oats on the counter and spread it out evenly (like you are spreading flour.)  In the large bowl divide the dough into two even portions.  Form each portion of dough into a ball and place it on the counter on top of the oats.  Form each pieces of dough into a round disk, about 7 inches wide and an inch thick.  Make sure the dough is covered in oats.  Using a butter knife cut the disc into 8 even slices (like you are cutting a pie.)  Place each slice onto the prepared cookie sheet.  Repeat until all 16 scones have been shaped.  (This makes small snack sized scones, if you are looking for coffee shop sized scones do not divide the dough into two discs, just make one large one and increase the baking time.)
Bake for 15-20 minutes, or until the outside in golden brown.  Cool in the pan for 5 minutes and then remove to a cooling rack.  Serve warm!
Looking for a different scone recipe?  Check out my Raspberry, Almond, Oatmeal Scones.