Sometimes I like to experiment in the kitchen (truth be told I spend most of my time experimenting!) and it's a lot of fun.  Recently I decided to combine two of my kid's favorite breakfasts, Dutch Babies, and German Apple Pancakes, it was a hit.  If you haven't made either of these you should, and if you have, try it combined for something new and delicious!
I made the apple sauce and covered it with Dutch Babies batter, skipping the berry sauce that I usually make with Dutch Babies, and popped it into the oven.  It was really fun, and beautiful when it came out of the oven (this picture doesn't do it justice.)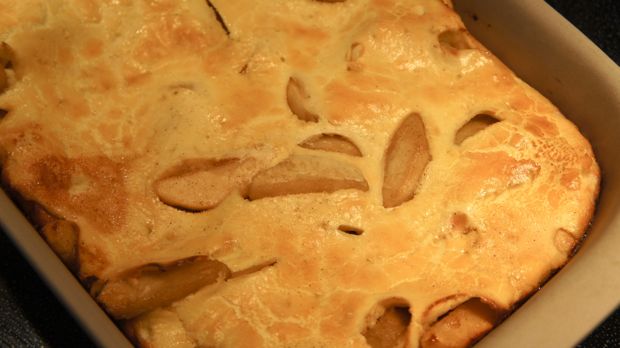 Apple Dutch Babies
Apples

3 Tbs. butter
5 large apples, peeled, cored, and sliced 1/2 inch thick
1/2 cup brown sugar
1 tsp. cinnamon
1 1/2 tsp. lemon juice

Dutch Babies

2 Tbs. butter
4 eggs
3/4 cup milk
3/4 cup flour
Place 2 Tbs. of butter in a 9×13 inch pan and place in a cold oven.  Turn the oven on to 425.  As the oven pre-heats the butter will melt.  Once melted, remove the pan from the oven (about 3-5 minutes, watch it closely because you don't want to burn the butter!)
While the oven pre-heats make the apple sauce.  Melt the butter in a 12 inch skillet over medium high heat.  Add the apples, brown sugar,and cinnamon.  Cook until the apples are golden brown, about 10 minutes.  Remove from the heat and stir in the lemon juice.  Spread the apples evenly across the bottom of the 9×13 inch pan, on top of the melted butter, and set aside.
Make the dutch baby batter by placing the eggs in a blender and turn on high for 10 seconds.  Then add the milk and turn on for another 10 seconds.  Finally add the flour and blend again for 10 seconds.
Once the oven is pre-heated and the apples are in the pan turn the blender on again for 25 seconds.  When you are done blending pour directly into the pan on top of the apples and place in the oven.  Bake for 20-22 minutes.  Serve topped with powdered sugar or cinnamon and sugar, yum!