I love the flavor combinations in this dish.  It is has a rich tomato sauce mixed with bacon and the freshness of basil!  The first time I made it years ago I wasn't sure what I would think of a tomato sauce with bacon, but wow, it is really good.
Unless you have a lot of big eaters for dinner, plan on leftovers as this dish makes a lot, but it's a great lunch the next day.  This dish is made in less than 30 minutes, a perfect weeknight meal!  Pair it with roasted broccoli and a green salad, delicious.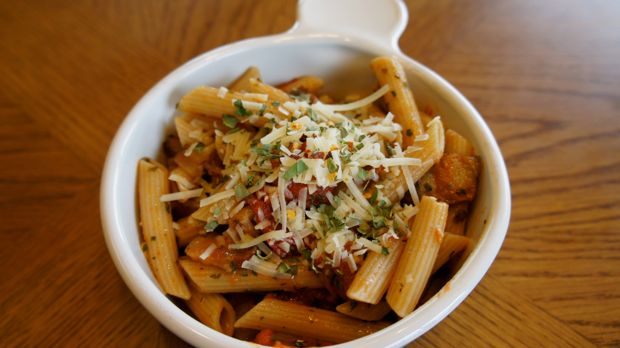 Bacon, Tomato, and Basil Penne
Adapted from AllRecipes
6 slices of bacon, cut to 1/4 inch widths
1 medium red onion, chopped
6-8 garlic cloves, minced or pressed
1/4-1 tsp. red pepper flakes
1 Tbs. Italian seasoning
2 tsp. dried parsley
1 28oz. whole, stewed, or diced tomatoes
6 cups penne pasta
1/4 cup chopped fresh basil
1/2-1 cup Parmesan cheese
Preheat a large saute pan to medium high heat.  Add the sliced bacon to the pan and stir frequently to get it evenly cooked.  Drain the bacon fat, leaving 3 Tbs. in the pan.  Add in the onions to the bacon and cook on medium low heat 3-5 minutes.  Stir in the garlic, red pepper flakes, Italian seasoning, and parsley, cook for 1-2 minutes, until fragrant.
Add in tomatoes to the pan and cook on low, breaking up the tomatoes with your spoon as they cook.  Cover and sauté for 10-12 minutes.
While the tomatoes and spices blend flavors cook the pasta  in a large stock pot.  Cook to el dente as directed on the package.  Drain the pasta and add to the tomato and bacon sauce.  Stir the pasta to coat with sauce.  Finally, add in the fresh basil and stir to combine.
Serve each plate of pasta topped with parmesan cheese!